The Economic Offences Wing (EOW) has taken action against former BharatPe managing director Ashneer Grover, his wife Madhuri Jain Grover, and other family members by registering an FIR (first information report) against them. The FIR includes charges under multiple sections of serious criminal offenses, such as criminal breach of trust, cheating, forgery, and criminal conspiracy.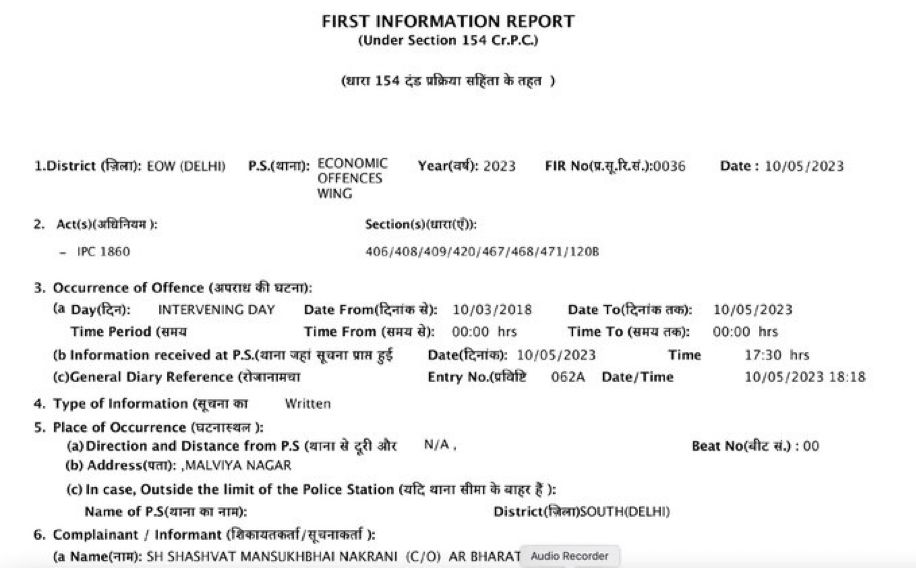 Allegations of financial irregularities emerged in January 2022, leading to a legal battle between Grover and BharatPe. In December 2022, BharatPe filed a criminal complaint against Grover and his family, accusing them of fraud, breach of trust, conspiracy, cheating, forgery, and destruction of evidence. The company also filed a civil suit seeking damages and recovery of funds.
This recent FIR by the EOW is seen as a significant step towards unearthing suspicious transactions made by the Grover family for personal gains. BharatPe expressed confidence in the country's judicial and law enforcement systems, stating that they would provide full cooperation to the authorities during the investigation.
The criminal complaint is being handled by MZM Legal, which is advising BharatPe. The firm's managing partner, Zulfiquar Memon, expressed satisfaction with the registration of the FIR, emphasizing the thorough inquiry conducted and the voluminous evidence on record.
Grover has faced multiple legal challenges in recent months, including lawsuits filed by BharatPe co-founder Shashvat Nakrani and investor Koladiya. These legal battles have put the spotlight on allegations of financial improprieties and raised concerns about corporate governance within the fintech company.
The registration of the FIR marks an important development in the ongoing legal dispute between Ashneer Grover, his family, and BharatPe. It signals the initiation of a deeper investigation into the alleged criminal activities and aims to bring the culprits to justice. The case will now proceed through the judicial process, ensuring a thorough examination of the evidence and a resolution to the matter.