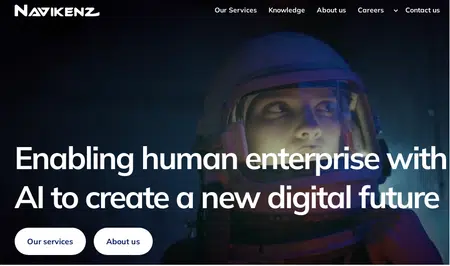 AI consulting startup Navikenz raised $4 million in seed fund led by investors including Sudip Nandy, former CEO of Aricent and Sekar PRC, former CEO of Hexaware, will use funds to expand and strengthen its position in India.
Founded in 2021 by former president of IT services at Mindtree and former CEO of BirlaSoft Anjan Lahiri, Navikenz enables organisations to implement AI solutions to improve business processes. It offers AI-based solutions such as business process consulting, enterprise architecture, cloud, and data science capabilities, it said.
"In the next one year, we are planning to hire a team of technology professionals across India and the US, comprising enterprise architects, data architects, data scientists and machine learning engineers," Anjan Lahiri, cofounder & CEO of Navikenz told
Navikenz has multiple clientele in India as well as in US, now aims to become a major player in the IT services space in the next five years. Currently works with clients in life sciences and discrete manufacturing sectors in US and India, some of which are Fortune 100 companies.
"Having started during covid times last year, most of our people have joined us virtually and have been working remotely so far. We are aiming to pioneer as many post-COVID practices as possible, one of which is asynchronous work, which is work from anywhere with a flexible day schedule; where people are driven mostly by goals," said Samit Deb, cofounder and chief of people success, Navikenz, told
"No company needs another line of code – they need higher revenues and lower costs. Technology enables them to do that. People do not need employment, they need employability and a purpose – a reason to come to work every day. The aim is to give people this sense of purpose, solving problems for customers in a way that makes them leap to log into their computers every day," added Lahiri.
Meanwhile, AI adoption has been on a continuous surge in companies headquartered in emerging economies, which also includes China, the Middle East and North Africa.
The findings from a survey done by Mckinsey in 2021 indicate that AI adoption is on steady rise with 56% of all respondents reporting AI adoption in at least one function, up from 50% in 2020.
And across regions, the adoption rate is highest at Indian companies, followed closely by those in Asia–Pacific, according to the survey.