BharatPe cofounder Ashneer Grover has weighed in on the ongoing debate over protesting Blinkit delivery executives, saying that the problems with the quick commerce model cannot be solved by forcing low delivery costs.
In a tweet, Grover, who was previously a core team member of Blinkit during its Grofers days, highlighted key issues with the q-commerce delivery model, such as low-ticket size and low margins. He also noted that the problem with the '10-minute' delivery model was that it had no economics.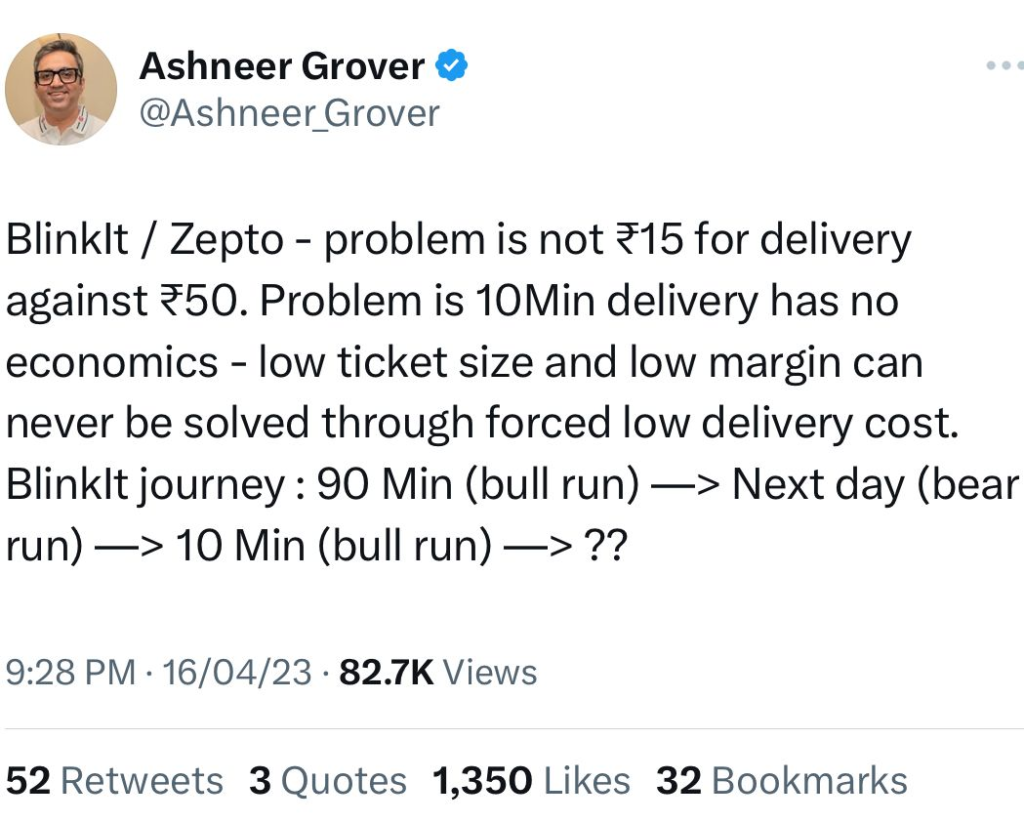 Grover's comments triggered a range of responses, with some arguing that there was no need for such superfast deliveries, while others suggested that economies of scale could be leveraged to reduce delivery costs. Users also criticized the quick-commerce platforms for delaying deliveries, particularly during peak hours, and questioned the need for 10-minute deliveries of essentials such as vegetables and butter.
The comment comes in the midst of an ongoing protest by Blinkit delivery executives over a new payment structure that they say slashes their earnings by nearly three-fourths. Earlier this week, the delivery drivers met with Gurugram Deputy Labour Commissioner Dinesh Kumar and demanded a minimum fee of INR 25 per delivery order. They also sought the restoration of earlier incentives and better working hours.
The operations of Blinkit came to a grinding halt in most parts of Gurugram on April 12 after the company rolled out a new pay structure under which the delivery fee was changed from a fixed amount to a per-kilometre basis. As a result, as many as 100 dark stores of the company were shut across the Delhi-NCR region, and users faced inconvenience while ordering items online.
Backing the demands of the drivers, the industry body Indian Federation of App-Based Transport Workers (IFAT) has also now urged the startup to change its stance on the matter and heed the demands of the workers. The situation has highlighted the need for startups to ensure fair and reasonable compensation for their workers, as well as the importance of addressing issues such as low margins and ticket sizes in the q-commerce delivery model.